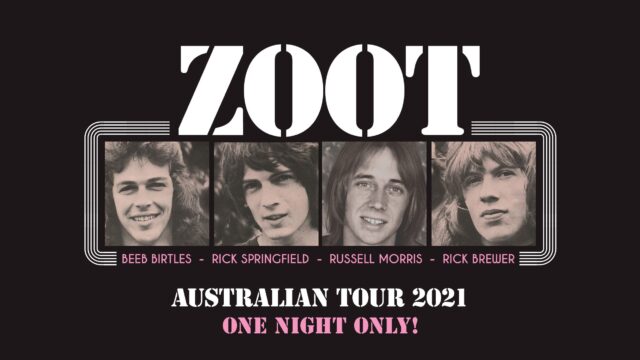 ZOOT, one of Australia's most-loved bands of the late '60s, early '70s, is re-forming for four shows only. And the band – featuring Beeb Birtles, Rick Springfield and Rick Brewer– will be joined by their close friend and contemporary Russell Morris.
⭐️VIP PACKAGES ⭐️
GOLD VIP Ticket includes:
Admission to Sound Check
Admission to Q&A Session
Limited edition A3 Thick Card Poster
Official commemorative VIP Laminate
Priority Access to the Venue
PLATINUM VIP M&G Ticket includes:
Meet and Greet with the Artist
Photo with the Artist on the fans own phone or camera
ONE personal item signed by the Artist
Signed Limited edition A3 Thick Card Poster
Admission to Sound Check
Admission to Q&A Session
Official commemorative VIP Laminate
The tour – ZOOT's first Australian shows in nearly 50 years – is dedicated to the band's lead singer, Darryl Cotton, who died of liver cancer in 2012.
"This whole tour is about honouring Darryl Cotton and his band ZOOT," Rick Springfield says. "Darryl also had a band with Russell Morris, Jim Keays and Ronnie Burns for 16 years, so it's great to have Russell celebrating Darryl by joining ZOOT."
Russell says the tour will be a "labour of love".
"I am not trying to be Darryl," Russell points out. "But as I worked with Darryl for so long, he is a part of me. And I know how much he cared about ZOOT, so I will give it my very best."
The reunion celebrates the 50thanniversary of ZOOT's debut album, Just Zoot,and follows the release of the ZOOT anthology, Archaeology.
"Who would have thought we'd still be performing ZOOT songs 50 years after the release of Just Zoot," smiles Beeb, who started ZOOT in Adelaide with Darryl Cotton. "Nevertheless, here we are with ZOOT in 2020!"
Aside from 2007's Countdown Spectacular, this will be Rick Springfield's first Australian appearances since 1971.
Often referred to as "a supergroup in reverse" – after the band broke up in 1971, Beeb Birtles was a founding member of Little River Band, Rick Springfield became a solo star in the US, and Rick Brewer joined The Ferrets – ZOOT were crowned Australia's Best Group in Go-Set in 1969 and had a string of hits, including 'One Times, Two Times, Three Times, Four', 'Monty and Me', 'The Freak', and their blistering cover of The Beatles' 'Eleanor Rigby'.